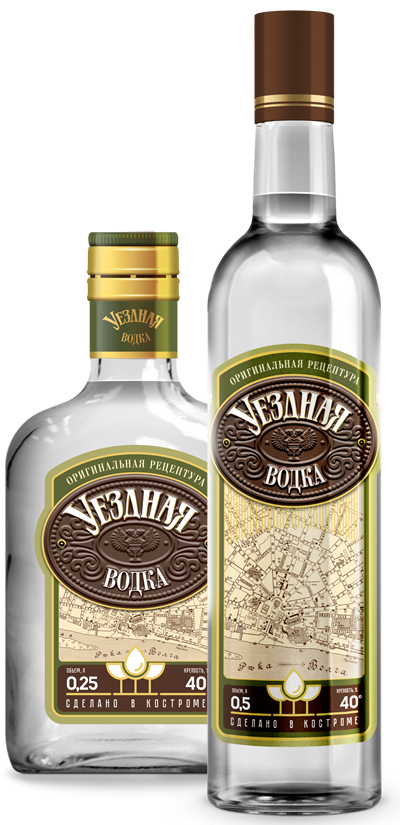 Vodka "Uezdnaya" is made in accordance with the original recipe and has a lot of merits: under its softness and tenderness a strong character is hided, and under a subtle vodka aroma lies a feeling of tranquility and confidence. "Uezdnaya" adds solidity to a festive table. Made for those, who value high quality, reliability, and for those who care about the origin of the drink.
This vodka is made on the basis of the alcohol "Lux" with a classic technology with the use of alcoholized rosehip. The mix of ingredients makes the drink strong and soft at the same time, creates a balanced taste and a pure vodka aroma.
Composition
Drinking water, rectified alcohol from food raw materials "lux", sugar, alcoholic rosehip infusion, acidity regulator sodium bicarbonate.
Packing
Glass bottle 0,5 and a flask 0,25 litres
Boxing
Box from corrugated cardboard, Bottle 0,5 – 20 pieces, 0.25 – 27 pieces
Dimensions: 0,5 l – 348x279x304, 0,25 l – 411x275x188

"The perfect combination for "Uezdnaya" are fish appetizers: herring, caviar, sturgeon balyk, salmon, chum salmon, pink salmon, sprat.  The label was made in a retro style, with a background photo of an ancient map of Kostroma adds an original element – dash stylized as a uniform strap – the head of the firefighters in the Russian Empire.